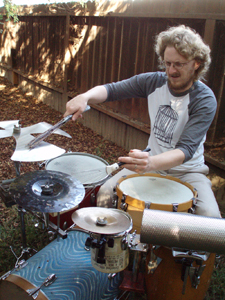 Nathan Hubbards solo music is an amalgam of his work as an improviser, composer and instrument builder. Using acoustic and amplified instruments and a wide range of electronics, Hubbard creates a soundworld of multiple layers, where the music changes definitions of form, shape and outcome. This music has been presented in a wide variety of contexts, from concert halls and festivals to freeway underpasses and desolate mountain roads, and is documented on the recordings Born On Tuesday (2004, Circumvention Music) and Blind Orchid (2007, Accretions Records). In addition, Hubbard has released several EPs focusing on homemade instruments and electronic processors - Aegis I (2005), Aegis II (2010) and Drive (for JS) (2010).
Beyond his solo work, Hubbard collaborates with percussionist Curtis Glatter (Glatter/Hubbard) and the trio ARC Trio, as well as leading his own quintet (Nathan Hubbard/Passengers) and the large ensemble Nathan Hubbard Skeleton Key Orchestra.
New release! A two volume compendium of live performances recorded from Ensenada MX to Portland OR - Cascadia Calling (live solo works 2000-2014) Volume One - and - Cascadia Calling (live solo works 2000-2014) Volume Two are available now - Volume One is a cassette/digital release, Volume Two is a five hour zip file.