The Glatter/Hubbard Duo
new music for Dog Star Man (Brahkage)
the Glatter/Hubbard Duo perform new music for a live presentation of Stan Brahkage's classic film Dog Star Man. Using percussion, the duo continue their recent investigations into flow, constellation music and the interaction of improvisation. This may be the first time the G/H duo has performed using only two seated drumkits.......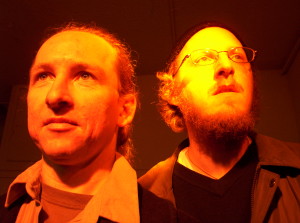 Troikastra
Marcos Fernandes - percussion, electronics
Curtis Glatter - hybrid trapkit, electronics
Nathan Hubbard - drumkit, percussion
Troikastra: In Aug. 2005, Percussionist/Composer Curtis Glatter assembled a new electronics-based ensemble combining the sounds of hybrid musical influences of ambient electronics and phonography and mixing it with raw cross-cultural percussion..the members of Troikastra seek to explore new territory by blurring the lines of musical genres with an extensively wide range of influences by cross-fertilizing the genres of classical, avant garde, trip-hop and scratch-dub . The music of Troikastra includes a distinct mixture of phonographic/electro-acoustic serenity as well as dense aural sound-scapes utilizing electronic frame, found sounds, turntables, samples and a hybrid trap kit played by Glatter.